The Toolbox includes a list of 70 measures selected as recommended and promising in RESTRAIL . These specific measures are grouped in 25 families of measures which share common characteristics and contexts. Twenty families are dedicated to prevention, four families to the mitigation of consequences and one family can be used before as well as after the incident.
The families are grouped in 3 broader categories according to their type and general mode of intervention: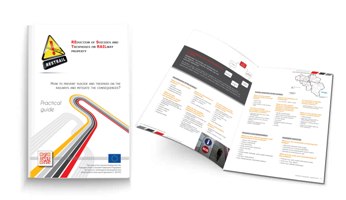 Organisational and procedural measures. These are strategic, collaborative, enforcement and process related measures (e.g. risk assessment, collaboration between organisations, enforcement patrols, etc.) with cross-cutting effects on safety practice in general and on the following measures.
Physical and technological measures. These are engineering measures which directly affect the physical design of the environment (e.g. fencing, landscaping) or technology which gets installed in the built environment such as detection systems, lighting devices, etc.
Public awareness and educational measures. These are measures which improve the knowledge or skills of various categories of people (communication campaigns, signage, education in and outside schools, media guidelines, training and exercises, etc.).
The list below displays all the families of measures and the number their corresponding specific measures. The complete list of measures is also described in the RESTRAIL Practical guide.