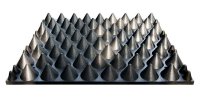 8.5
Anti-trespass panels
Description
What does this measure refer to and what is its objective?
This measure consists of the installation of several anti trespass panels (ATP) on the ground on which walking is almost impossible because of the panel's surface profile. The aim is to create a ground-level physical barrier which deters and delays pedestrian or animal access to prohibited areas. They are also named "anti trespass grids" or "cattle grids". The panels can have different surface profiles and can be made of different materials such as timber, GRP, or recycled rubber (i.e. rubber mats), depending on the manufacturer. The surface can have the following shapes: a repetitive skewed profile (copy of oblique wooden cattle guards historically used on the railway), pyramids or cones of equal sizes (the pyramids/cones which form the panel's surface have equal heights) or pyramids of unequal sizes (the pyramids which form the panel's surface have slightly uneven sizes and heights).
Recommendations
Best practice and lessons learned
Installation tips:

There is a need for at least about 3 meters full band of the material so that it would not be easy to jump over.

Combine with fences:

The space beside the grid should be guarded by fences for a quite long distance. In some cases 500 meters of fencing were reported. The fence should be laid in such a way to obstruct the flows of trespassers from crossing over the joint between the fence and the rubber panels.
Create with the fences a virtual tunnel close to the track for a suitably long distance. Some IMs reported distances of at least 7 to 9 meters.
Make sure that in the fences there are escape routes for train passengers in case of emergency (and emergency response access) and entry gates for railway workers and their materials.

Combine with CCTV:

The perception of the surveillance camera is likely to enforce the effect of the anti-trespass barrier.
The recorded images facilitate the assessment of effectiveness allowing to count the number of trespassers and to study what how pedestrians adjust their behaviour.

Make them easily visible:

They can also act as a good visual deterrent
Communicate when installing to avoid pedestrians injuring themselves (e.g. by trying to walk on the panels). Combine with warning or prohibitive signs installed in visible places. These should also be visible during night-time.
Coloured or reflective paint can be used to increase panels' visibility on the ground: GRP panels can be manufactured in any colour according to requirements and rubber panels can be painted.
Combine with anti-climb painting as an additional deterrent as the paint can ruin clothing and shoes. Signage is normally provided when using anti-trespass paint.
Warning points
Expected difficulties and issues you should pay attention to
Anti-trespass panels do not completely eliminate the possibility of direct contact between persons and moving trains as would a solid fence. Young trespassers with good moving skills could still walk on the panels and access the tracks illegally. However, these pyramid-shaped panels are very likely to soil the shoes of the pedestrian who walks on them, and this may dissuade young trespassers from crossing on this system.
Buried electrical cables, switch boxes and balises may raise installation difficulties
More difficult interventions on the infrastructure
More difficult access/interventions of railway staff, safety services or security agents
May raise cleaning difficulties especially during winter time when the panels may get covered in snow or ice. Similarly, there have been concerns regarding resistance to sand accumulation.
With some systems (e.g. timber) vegetation can grow freely. Other systems will gather dirt and fallen debris and are likely to grow organic material on the top of the panels inthe long term. This requires regular inspection and maintenance. If obstacle detectors are installed near the panels, grown vegetation can trigger false alarms.
More difficult passenger evacuation on level crossings or from tunnels
More difficult removal of animals from the tracks
Possible problems if the train has to stop outside the platform area
Observations
Other points that you should not forget
They are usually installed in locations very close to the tracks where fencing is impossible (e.g. at platform ends or at the station's extremities, next to a LC). They are also suitable for sensitive hotspots in the vicinity of stations (e.g. to deter access for metal thefts). Be cautious about the installation at platforms as an alternative to the platform end fence, because passengers may fall.
They can be implemented on narrow rail corridors instead of intermediate fencing between tracks. However, this implementation may raise passenger evacuation problems in case of emergency. INFRABEL is testing this type of implementation in a field trial scheduled for 2015.
New designs of panels are available where different sizes of the pyramids have been used to make it more difficult to walk across: https://www.lbfoster.com/en/news/details...
There can be important differences between characteristics of the anti-trespass systems available on the market. These characteristics can affect the ease of the installation and maintenance process, therefore the end-users are encouraged to check these with the manufactures:

Size and weight of panels: depending on the manufacturer and the material used, the length of one panel can vary between 0.9m-1.3m and the weight can range between 25kg-95kg. Some systems require lifting equipment for installing or handling the panels.
Installation mode: panels support cutting to fit required spaces on the ground, but the way the panels are installed on the tracks varies from one system to another: the width of one panel corresponds to approximately the width between the tracks. You may want to check if the panels cover (or not) the rail fastenings, since this can have an impact on track maintenance (e.g. the need for removing the panels during maintenance work).
Endurance level: some materials will last more than others, thus the lifetime of the installed system may range between approximately 5 and 25 years.
Fireproof level: some materials are more resistant to fire than others, with some systems offering fully fire retardant panels. Fire retardant panels can also be used in underground stations, in tunnels and other applications requiring fire retardancy.

Preparatory groundwork is needed before installation mainly in case of inclined slopes, cable drums or if the substrate is uneven. Each site is unique and may need be prepared based on its conditions.
The anti-trespass panels material is easy to assemble and dismantle but the cost of maintenance can increase when the material needs to be moved.
Study results
Data or other evidence supporting the measure's effectiveness
This system was initially implemented and has been mainly used in the UK (by Network Rail).
The system was also implemented in Portugal, Lithuania, and Japan but evaluation results are unknown.
A pilot study conducted in 2014 in Belgium by INFRABEL evaluated the effect of this measure at a trespassing hotspot close to three schools and a level crossing. Anti-trespass panels were installed in combination with fences, warning signs and a surveillance camera. The number of trespassers during the three months after the implementation decreased with 78% compared to the three months before installation. A second assessment was done in 2015 and noted a 98% decrease in the number of intrusions. Based on the pilot results, Infrabel decided to equip 70 LC with ATP. Contact: Gaëtan Van Overmeiren.
In the Netherlands the first implementation was in 2014 by ProRail. Evaluation indicated trespass reductions between 30-90% depending on the configuration and problems, and no clear conclusion about the number of suicides (some of which may have shifted towards accessible LC).
Anti-trespass panels were tested by TCDD at Aydin station in combination with other measures as part of RESTRAIL pilot tests conducted in 2014.
Anti-trespass panels were tested in Sweden at 6 locations in the period 2016-2017. Test results showed an overall 38% reduction in numbers of trespassers: -51% in one location, -29% in another, +4% increase in a third, and less clear but rather positive effect for the rest of the locations (full report from Trafikverket).
An exploratory study by SNCF is also ongoing at several locations in France (results unknown yet).
In 2019 Metrolinx started with a pilot program where rubber ATP were placed at select high-risk level crossings across the GO rail network in Toronto, Canada (source).
last update: 2022-12-01