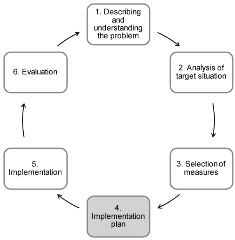 In this step you draft the implementation plan with the following points in mind: expected effects and their evaluation, involved partners, funding and implementation schedule.
In parallel, plan the evaluation strategy and conduct before-implementation evaluation. This implies to implement specific tools or procedure for collecting data to be used in evaluation. At this point you need to design measureable indicators and the specifications for a controlled assessment of the impact of implementing preventative measures in specific contexts (spatial and temporal scale, nature of control, required data, etc.).
Actions
Questions to be answered
Issues to be considered
Selection of measures
Which measure will be implemented?
-* take into account effects and costs, but also other relevant issues -* final decision may be reached only after assessing and trying several alternative combinations
Assessment of expected effects
What is the estimated effect of the selected measure on target incidents?
-* percentage reduction in target incidents? -* reduction in (annual) number of target incidents?
Involved organisations and their responsibilities
Which are the participating organisations?
Organisations and their roles: -* planning of implementation details -* implementation -* maintenance -* monitoring and evaluation
Estimated cost
What is the cost of selected measures?
-* total cost -* costs per measure -* implementation and maintenance -* evaluation and dissemination -* annual distribution of costs
Funding
How is the funding organised?
-* contributions of involved partners -* is funding secured? -* is funding in balance with implementation schedule?
Implementation schedule
When are the selected measures implemented?
-* implementation schedule of each measure -* maintenance schedules?
Evaluation and monitoring issues
How are the effects evaluated?
-* a brief description of main issues -* what effects are evaluated (in addition to the effects on target incidents)? -* evaluation method(s) and plan(s)? -* responsible organisations -* are the requirements for proper evaluation taken into account in the implementation plan? -* draft of the detailed evaluation plan
In order to analyse the before-period situation you need to collect data that have been selected for evaluation purposes. These data will eventually be compared to the one collected after the implementation of the measure(s) in step 6. These data should thus be available at the end of the implementation period.
Once this step is completed, you are ready for the actual implementation and evaluation.